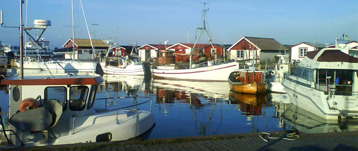 There is so much to see and do in Torekov! Sealsafari, birdwatching and hiking in the beautiful nature are just a few tips. Climbing is popular in the area so it's easy to stay active. Bjäre offers a wide choice of cultural experiences with several museums. Torekov and its nature is a wonderful place for those interested in history.
Read more about Torekov at: www.torekov.se
You can also follow Torekov at Facebook. Click here for a directlink.
Båstad is mostly related with tennis and party, but Båstad offers so much more! Bjäre is an exciting landscape with rugged steep cliffs and a special lighting. Small trails lead deep into the legendary forests and down into canyons. The colors, the shapes and the rolling countryside will charm you!

Read more about Torekov at their official website www.bastad.se. You can also follow Båstad at Twitter by clicking here.